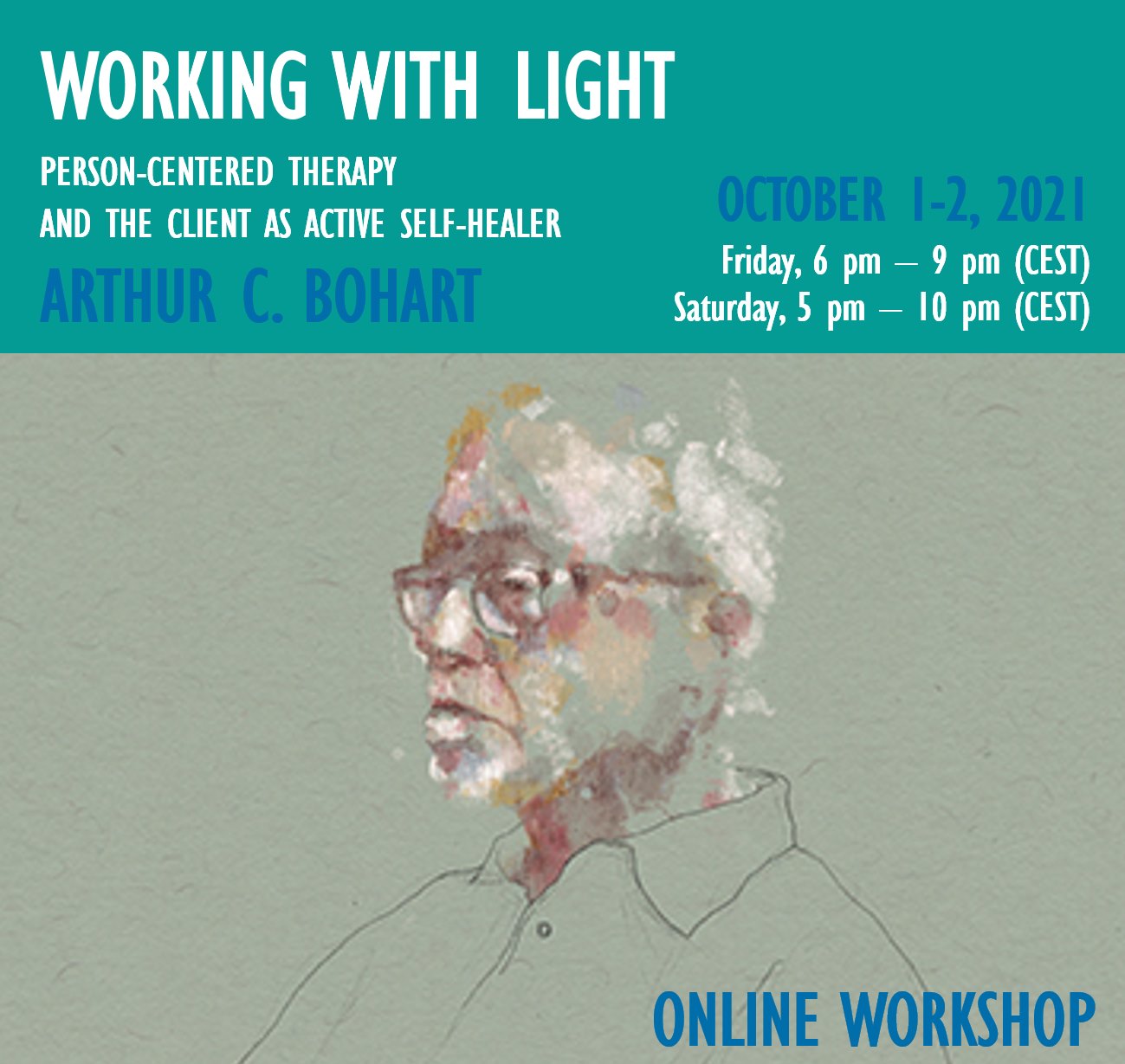 Working with light –
person centered therapy and
the client as active self-healer
International workshop with Arthur C. Bohart
This workshop proposes to take a deeper look at how person-centered therapy and psychotherapy in general works. Effective therapy practice depends on two things: perceiving and understanding, and doing. Many training programs emphasize doing. I believe that to be able to deeply see and understand what is happening in therapy, what your client is doing, and how change happens, leads to more effective doing. The focus will be on sharing my understanding of person-centered therapy in a way that I hope will deepen participants' understanding of what is going on with their clients, and between them and their clients. I will also talk about therapy from the doing side: considering the nature of empathy and how it works, and how one might practice integratively from a person-centered point of view.
We will examine how people develop psychological problems, people's self-healing processes, and how therapists facilitate those processes

Rogers' evolution from his view of psychopathology as primarily due to conditions of worth to his view of therapy as a process of liberation from rigid constructs to a more process-oriented way of living

How psychopathology is not merely generated by conditions of worth in childhood, but by conditions of worth in everyday life

Considering psychotherapy from the client's side

Psychotherapy as relying on clients' self-organizing wisdom

Research on how clients creatively make therapy work

What is empathy and how it facilitates clients' growth process

How to practice integratively while remaining true to basic person-centered values

Implications of the person-centered point of view for overcoming the polarization in our world
Arthur C. Bohart
The workshop will be held in English. It will consist of lecture, discussion, exercises, and short videos.
Arthur C. Bohart is professor emeritus at both California State University Dominguez Hills and at Saybrook University. He is the co-author or co-editor of several books including How Clients Make Therapy Work: The Process of Active Self-Healing; Empathy Reconsidered; Humanity's Dark Side; and Constructive and Destructive Behavior. His work has focused on empathy, the client's role in psychotherapy, client-centered therapy, psychotherapy integration, and evidence-based practice in psychotherapy. Currently, he is semi-retired and doing part-time teaching at Santa Clara University.
Date

:

Friday, October 1, 2021, 6 pm – 9 pm (CEST)
Saturday, October 2, 2021, 5 pm – 10 pm (CEST)
Venue:
Online (Zoom). You will receive the Zoom link on October 1, 2021.

Organizer:
APG•IPS
Registration:

Diese E-Mail-Adresse ist vor Spambots geschützt! Zur Anzeige muss JavaScript eingeschaltet sein!

Please contact Bettina Fleischmann for any questions.

The registration period was extended to September 29, 2021.

Participation fee:

EUR 120.00 (EUR 90.00 for members and students of APG·IPS)

Registration and payment deadline:

Please transfer the participation fee to the bank account by September 29, 2021 at the latest:

APG-IPS

Diefenbachgasse 5/2, 1150 Vienna, Austria

IBAN: AT84 3242 6000 0091 1248

BIC: RLNWATWW426

In accordance with the Austrian Psychotherapy Act and the advanced training guidelines of the Federal Ministry (advanced training obligation), 10 work units can be credited.