Dreams, the Daimonic and the Dionysian in Person-centred Therapy
An experiential and theoretical workshop facilitated by Manu Bazzano
Friday, September 13, 2019, 17:00 – 21:00
Saturday, September 14, 2019, 09:00 – 18:00
APG•IPS Personzentriertes Zentrum Carl Rogers, Diefenbachgasse 5/2, 1150 Wien
---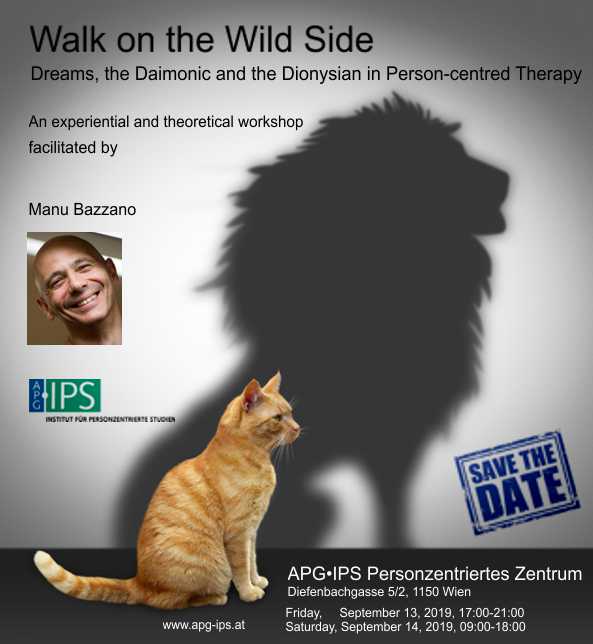 ---
Informed by classic and contemporary person-centred theory as well as current philosophy, we will investigate through dyad work, group work and discussion these three areas that have been arguably neglected in PCT.
Dreams – traditionally the province of psychoanalytic/psychodynamic therapy – can be explored phenomenologically and linked to PC theory rather than being interpreted.
The Daimonic is any natural function which can invade the person. It is essential to human experience. To be overwhelmed by the daimonic opens the door to psychosis; to suppress it leads us to apathy, or the absence of pathos – i.e., suffering, passion and 'pathology'. Existential approaches have rationalized the Daimonic, while Jungian analysis has understood it in terms of archetypes. What can PCT offer?
The Dionysian is closely linked to the Daimonic, with one fundamental difference: it cannot be rationalized away or purified through catharsis but requires embracing the tragic joy of existence, the person's identification with the wider domain of organismic experiencing.
€ 290,00
Reduzierter Preis für APG•IPS Kandidat*innen, Mitglieder und Teilnehmer*innen des APG-Propädeutikums € 220,00.
Zahlungen bitte bis 5. September 2019.
---
Manu Bazzano is a psychotherapist, supervisor, visiting lecturer at Roehampton University. He facilitates men's groups as well as workshops on Zen and Phenomenology in the UK and abroad. He has a background in philosophy and rock music and is the author and editor of several books, including Haiku for Lovers (Ed); The Speed of Angels; Zen Poems (Ed); Re-visioning Person-centred Therapy (Ed); Zen and Therapy: Heretical Perspectives; Therapy and the Counter-tradition (co-editor), Nietzsche and Psychotherapy and the forthcoming Re-visioning Existential Therapy. He has been editor of Person-Centered and Experiential Psychotherapies, and is associate editor for Self & Society. He studied Eastern contemplative practices since 1980 and in 2004 was ordained in the Soto and Rinzai traditions of Zen Buddhism. www.manubazzano.com.